CASE
Houben sausage rolls
A gift from Houben Worstenbrood: the Sterrenbox
Houben Worstenbrood is perhaps the most famous baker of the Brabant sausage roll – a local delicacy. When the company launched some luxury varieties, they needed suitable luxury packaging – which Tenfold was proud to create.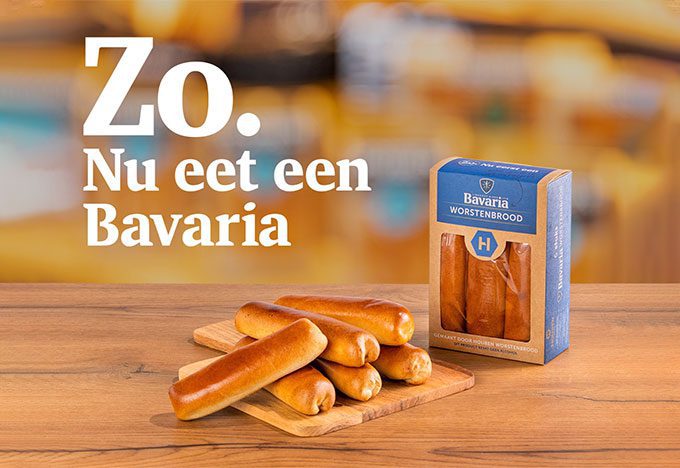 How do you turn a luxury sausage roll into a real gift?
Inspired by Houben, four star-chefs from the Eindhoven region came up with their own luxury mini sausage rolls. The treats created by top restaurants De Lindehof, Wiesen, Sarso and the Treeswijkhoeve obviously deserved a fitting presentation. Houben asked us to make premium quality packaging with a premium quality appearance. Of course, a sausage roll is always a treat, but we wanted to take it a step further and make it a real gift. It was a task that fitted us perfectly because we're always striving for excellent outcomes.
So, the 'Sterrenbox' ('Star Box') was born: an ultra-luxurious box containing twenty so-called 'Mienekes', or mini sausage rolls. The packaging was jet black, with bronze lettering. It's a box that lets you know you're dealing with sheer class – even before you open it! There was even a 'Two-star Box' a little later which contained the creations of chefs with two Michelin stars. A nice addition to the series of high-quality packaging that we created for Houben.
Durable and tape-free
Fair enough, in terms of technical innovation, we didn't have to reinvent the wheel for this specific packaging. Still, we had to ensure that the material was as robust as possible so the sausage rolls would remain nice and fresh. And, in line with Houben's specific request, it had to come without tape or stickers.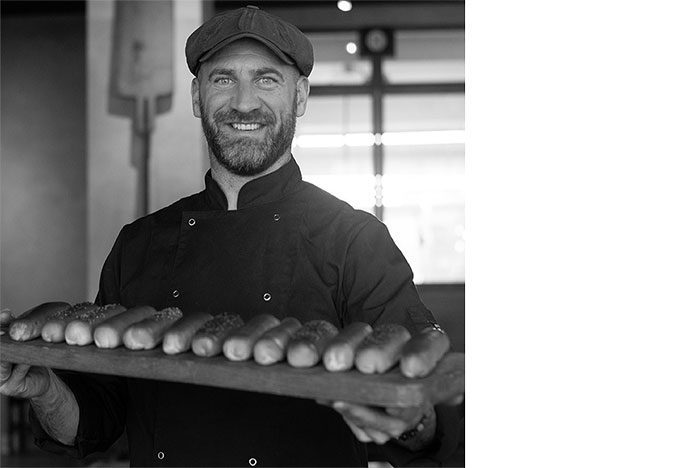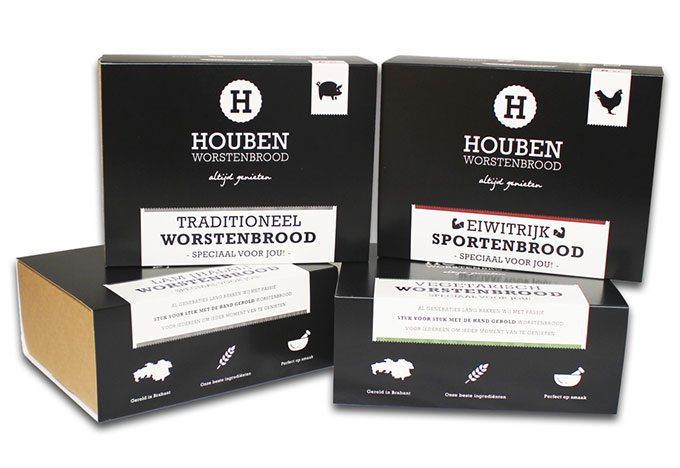 Beautiful packaging is added value
Above all, we think this is a good example of how packaging can also be an essential part of your product concept – and especially its marketing. Packaging is more than just a cost. Beautiful packaging is real added value. The unboxing experience of luxury products in particular is very important to a consumer. And the way you present something can sometimes be just as important as its contents. If a premium product is not perfectly packaged, it can only cause disappointment. Too little attention to attractive packaging and you'll definitely not get the results you were looking for. We cannot emphasize the importance of a stylish presentation enough! And that's why we won't settle for anything less than the best.
The partnership with Houben is one we cherish. Not only because this allows us – and our customers – to enjoy their products from time to time, of course. We are only too happy to work with companies in the region that, like Houben, want and dare to think differently.